I had the honor to travel with President Obama, members of his Cabinet, and my Congressional Colleagues to Cuba this past week as part of an effort to chart a new era of U.S. relations with the Cuban people and the Cuban government.
During our visit, it was clear from talking with the Cuban people that they were appreciative of President Obama's visit and there was a lot of hope about the fruits that this trip will bear.
Walking through the historic streets of Old Havana, I quickly learned about Cuba's rich history and the way society operates. It was apparent that Cuba is slowly changing -- with more private sector activity being introduced. Cubans seem to live modestly materially, but not spiritually or aspirationally.
President Obama told the Cuban people during his address on Tuesday that he came to Cuba to "bury the last remnants of the Cold War in the Americas" with one generation closing the chapter of the former. I sensed that the Cuban people were anxious and not so much nervous about what that might mean. And they were hopeful for an authentic opportunity to embrace, not fear, change.
Words can't describe the rich historical and cultural traditions that define the Cuban people, but perhaps my pictures can help provide a glimpse into Cuban society: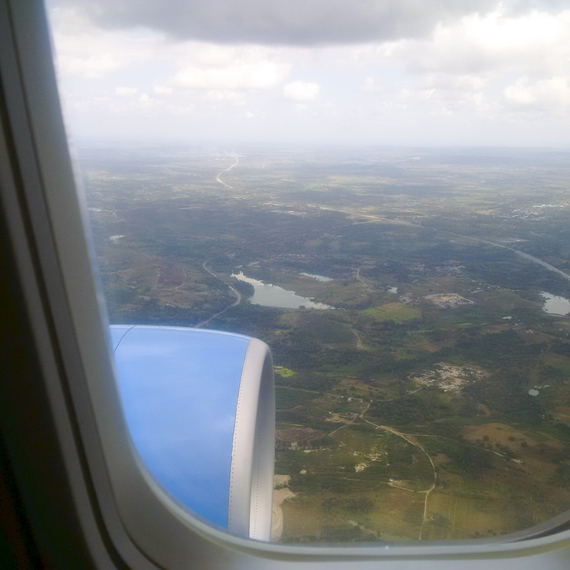 Cuba -- 93 miles south of Key West, Florida -- is a tropical island about the size of the state of Pennsylvania. Here's a picture as we approached José Martí International Airport.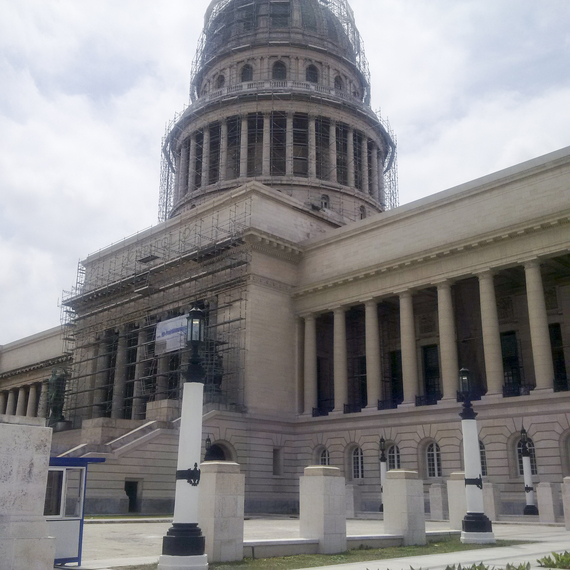 Cuba's National Capitol Building "El Capitolio" -- now headquarters of the Cuban Academy of Sciences, but soon to return as the home of the Cuban legislature -- holds striking similarities to the U.S. Capitol Building.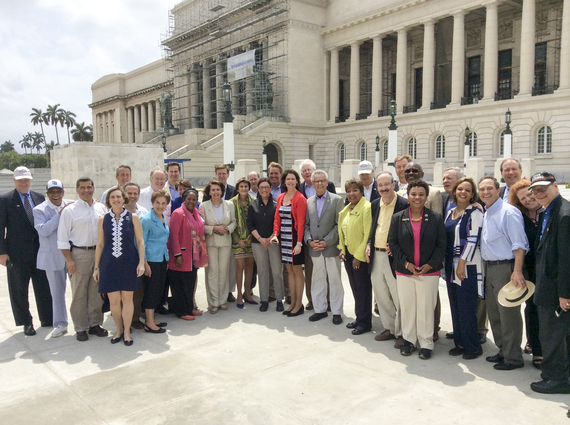 Members of the U.S. Congress gather at "El Capitolio."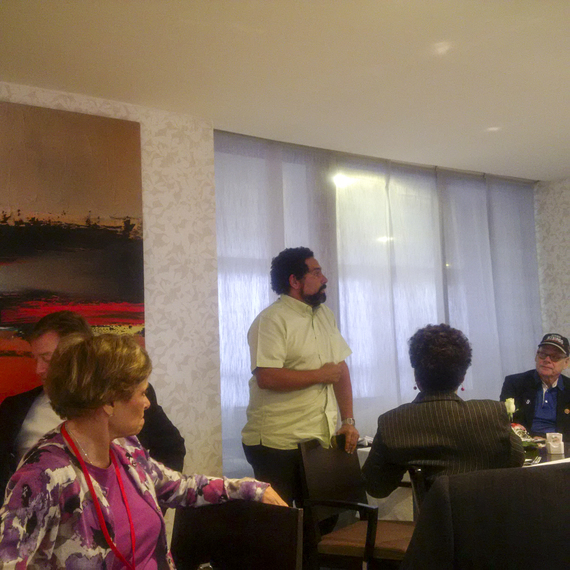 During our visit, we met with Cuban civil society members. Here's a picture of Yociel Marrero Baez, an engineer graduated from California, who briefed us on his work to conserve Cuba's resources and environment.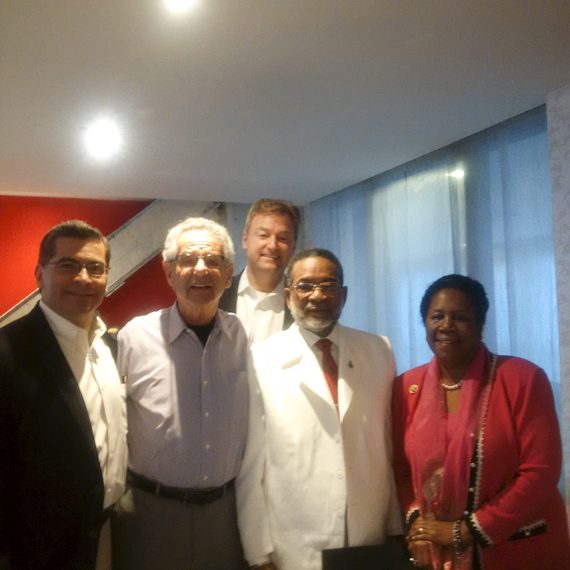 Lazaro Cuesta Valdes (in the white suit) is a leader of the Santeria community in Cuba. Santeria, with roots in West African tradition brought to Cuba by slaves, is practiced by millions of Cubans.
In Cuba, it feels like it's throwback Thursday everyday of the week.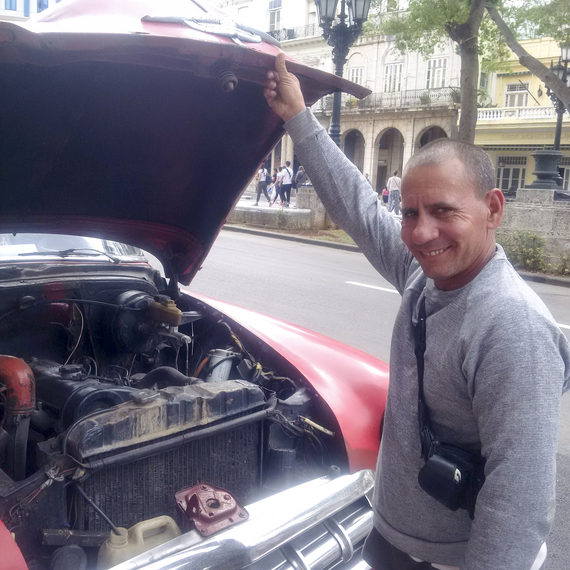 The Cuban people are known for being resourceful, especially with their cars. This taxi driver's 1950's car was pristine, with a Mitsubishi turbo engine inside.
Artwork in Old Havana so expressive you can hear it speaking: "So what do you think of President Obama's visit?"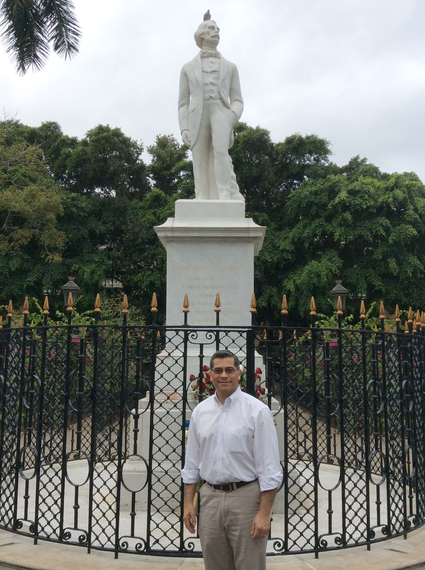 We stopped to view a statue of Cuban independence hero, Carlos Manuel de Cespedes, during our walking tour of Old Havana.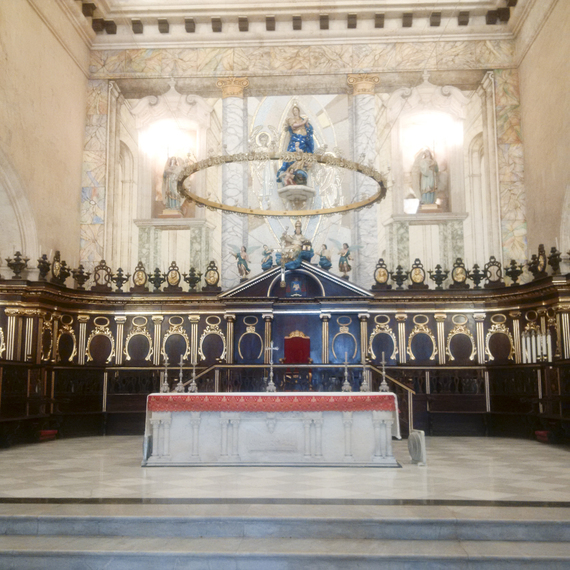 The Catholic Church -- guided by His Holiness, Pope Francis -- played an important role in supporting a change of course to normalize U.S. relations with Cuba. Here's a picture of the Havana Cathedral where President Obama met Cardinal Ortega, the Latin Rite Archbishop of the Archdiocese of Havana.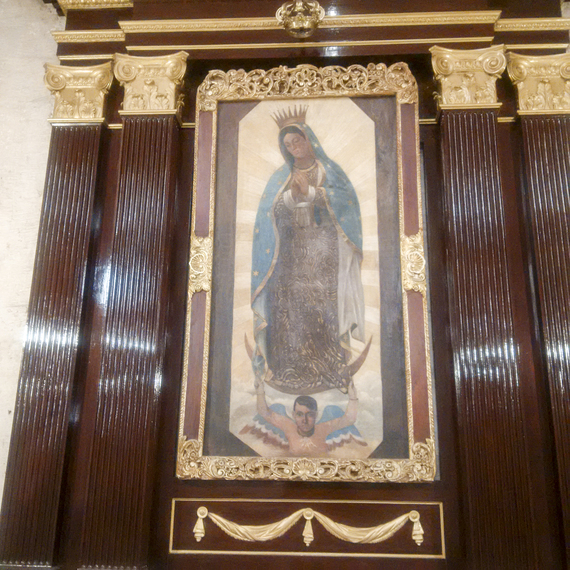 Havana Cathedral, Virgen de Guadalupe. This old painting has many similarities to other paintings of the Virgin Mary in Latin America but there are also some interesting differences, like her added crown. The symbolism of the Virgin Mary is very powerful and enduring. If you drive around Los Angeles, you will find the same image of the Virgin Mary in homes, small businesses, and churches -- especially in my district.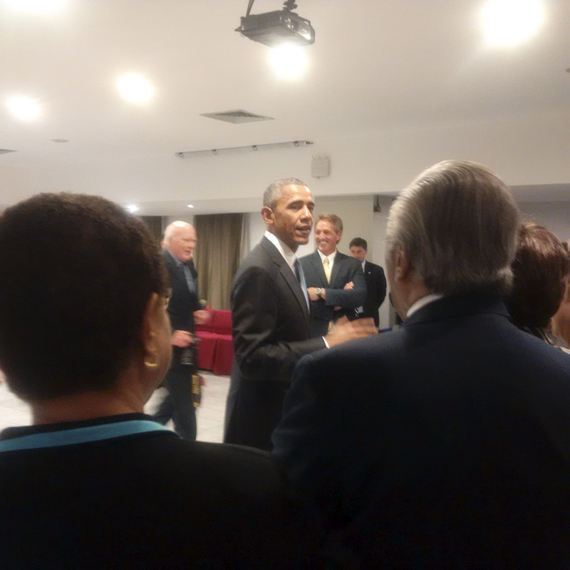 President Obama came by to say hello at our hotel.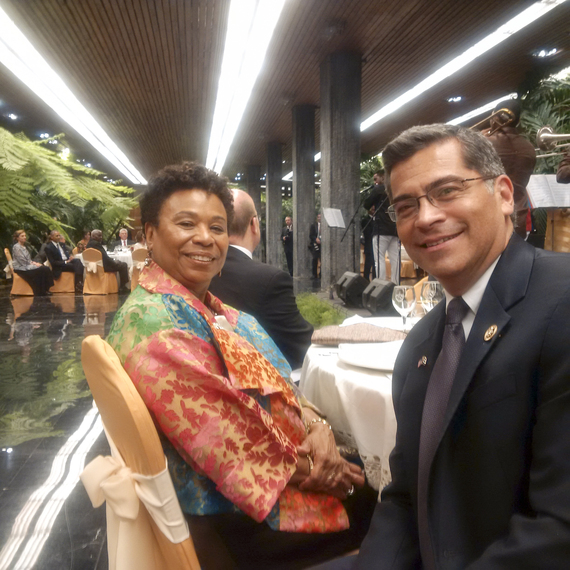 Shared company at the State Dinner with my colleague, Congresswoman Barbara Lee (CA-13); the Presidents are in the background.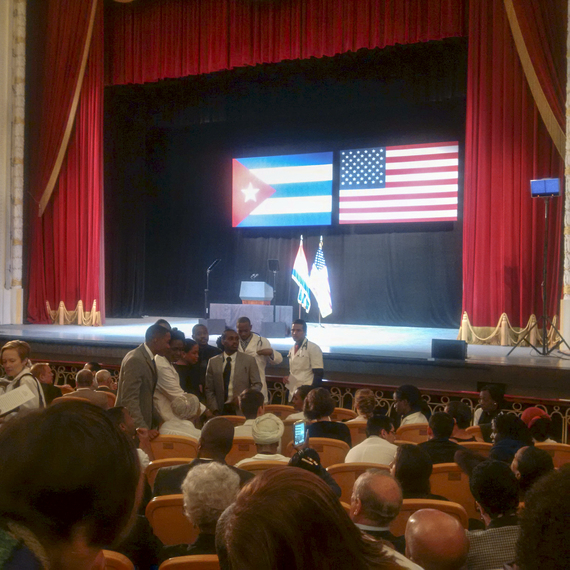 Taking our seats before listening to President Obama's historic address to the Cuban people.
The woman in red on the first balcony is Cuba's beloved ballerina and choreographer, Alicia Alonso.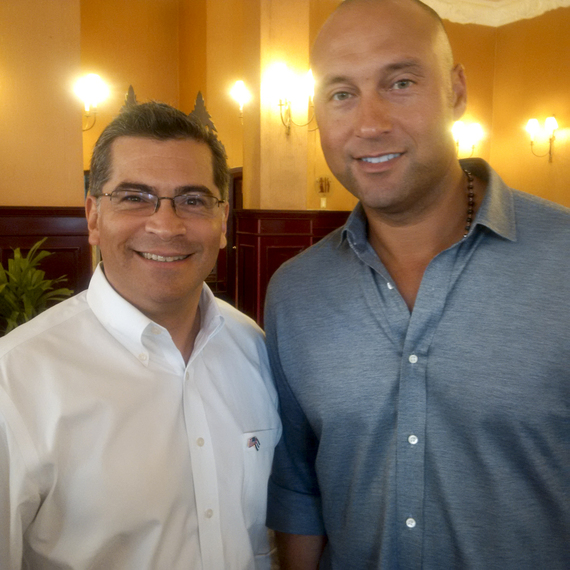 Hard at work in Havana with New York Yankee great, Derek Jeter. Major League Baseball may be one of our best weapons to bury the Cold War.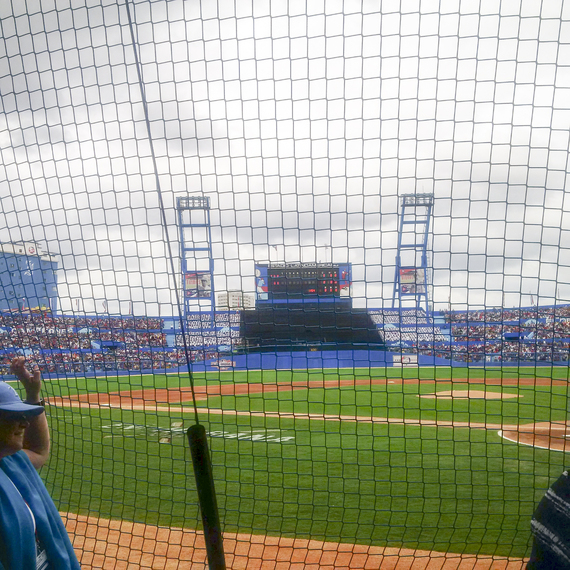 Cuba and America have many differences and similarities. One thing we've both cherished is our shared experiences of baseball. On this day, the Tampa Bay Rays played the Cuban National Team at the Estadio Latinamericano -- a stadium that hosted the Brooklyn Dodgers in 1947.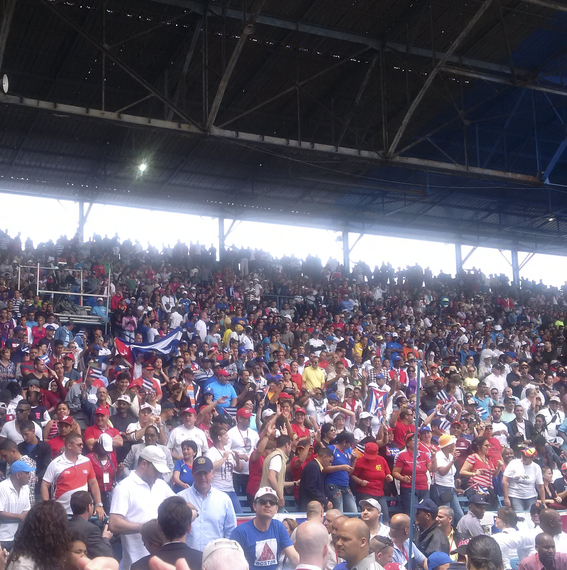 ¡Béisbol Cubano!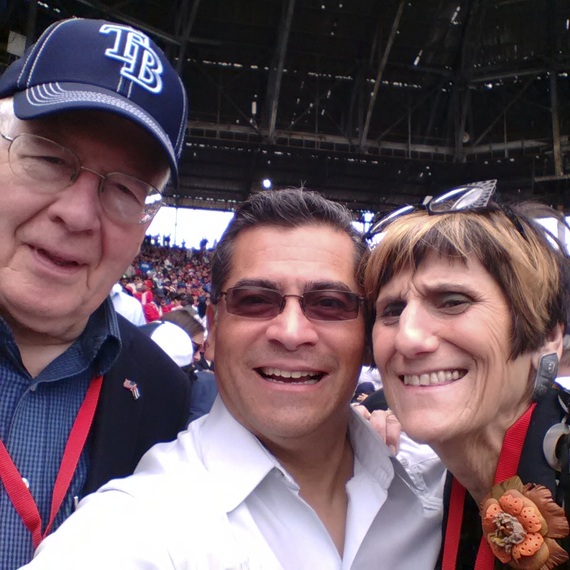 Selfie with Congresswoman Rosa Delauro (CT-03) and Congressman David Price (NC-04).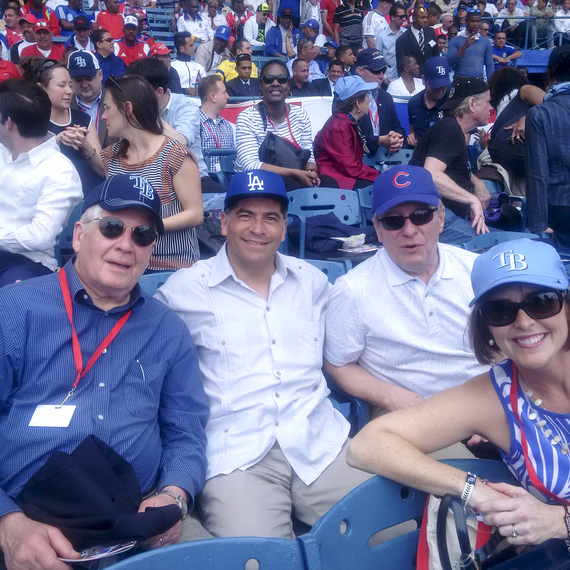 Congressman David Price (NC-04) and Congresswoman Kathy Castor (FL-14) rooting for the Tampa Bay Rays, Senator Dick Durbin of Illinois sporting the Chicago Cubs, and yours truly, representing the Los Angeles Dodgers from abroad. The Rays won the game 4-1.
-- This feed and its contents are the property of The Huffington Post, and use is subject to our terms. It may be used for personal consumption, but may not be distributed on a website.
ВЫБОР РЕДАКЦИИ
20 октября, 11:59
02 октября, 01:00
01 сентября, 12:21