28 декабря 2017, 12:04
17
Вести

Выбор редакции
It's time to remember the other losses of 2017. Let's remember those who left, who bequeathed a lot to us - in life, culture, and science. Without them, one cannot imagine our country. But the energy of these people remains in all of us.
Alexei Batalov, 1928 — 2017
The Oscar-winning locksmith from the Moscow suburban train. Moscow Does Not Believe in Tears, My Dear Fellow, The Flight, The Lady with the Dog, and The Cranes Are Flying.
Every single one of his roles was brilliant, and it couldn't be otherwise. He was the embodiment of masculinity, intellectuality, and nobility. He acted the way he lived. 
Vitaly Churkin, 1952 — 2017
Vitaly Churkin: "We categorically reject the insulting remarks about our country".
An ace of international diplomacy. A brilliant polemicist. Russia Permanent Representative to the UN — Vitaly Churkin. He did not know compromises when he defended the position of our state. He was on duty until the very end.
Lyudmila Belousova, 1935 — 2017
An ice goddess. All her life, she'd been dancing only with him - her husband — Oleg Protopopov. It was a divine dance.
Igor Volk, 1937 – 2017
Igor Volk manually controlled the Russian Buran shuttle. After 12 hours of zero gravity, he managed to escape the pod all by himself and immediately proceeded with the piloting of a supersonic aircraft. He proved that a pilot doesn't lose his skill in space.
Alexey Abrikosov, 1928 — 2017
A world-class theoretical physicist and Nobel Prize winner. Abrikosov's lattices of quantum vortices were used to create superconductors. He also helped create magnetic resonance imaging which was a breakthrough in medicine.
Leonid Bronevoy, 1928 — 2017
He claimed he became famous after the release of Seventeen Moments of Spring, but he was indifferent to his fame. A quiet artist who fascinated us on both stage and screen.
Each of his characters is magnificent and true-to-life. An excellent sense of humor without a hint of vulgarity and a rare dignity. The richest gallery of works in the theater and cinema. And the sincere love of the audience.
Oleg Vidov, 1943 — 2017
The country was going crazy over his Headless Horseman. A noble and handsome man. He pleased a lot of his fans with his role of a policeman/taxi driver in Gentlemen of Fortune.He was called the "Russian Robert Redford" in the US. But it didn't work out in Hollywood. He was always remembered at home.
Lyudmila Ryumina, 1949 — 2017
"Valenki, valenki! Oh, the old unstitched ones!" Lyudmila Ryumina, the nation's singing soul. Millions of people around the world got to know Russia through her songs.
Pyotr Deinekin, 1937 — 2017
The incarnation of the history of our air force. He mastered 26 types of combat aircraft. The many-year-long commander of the Air Force retained his flight crew and updated the AF during the hard 90s. At an air show in Kubinka, the 79-year-old General of the Army skillfully piloted a rare Douglas.
Vera Glagoleva, 1956 — 2017
Touching and fragile, with her amazing radiant eyes. Vera Glagoleva was the subtle muse of the movie screens despite the whims of fashion. Her heroines from the movies Torpedo Bombers, Marry the Captain, and An Umbrella for Lovers instantly won the love of the audience. With her radiant smile, she was surprisingly strong.
Sergey Kushneryov, 1962 — 2017
The producer and author of the program Wait for Me, which changed the lives of many as they found friends and relatives who seemed to have been lost forever. It was important for Sergey Kushneryov that dreams and hopes came true. The producer also has Vzglyad and the new format of Komsomolskaya Pravda on his record.
Georgiy Natanson, 1921 — 2017
- Do you love me?
- Yes.
The director is Georgiy Natanson. The movie — Once Again About Love, one of the highlights of Soviet cinema. His characters are a man and a woman, and their path to each other is their path to life. He brought Tatiana Doronina, Eugeny Leonov, and Oleg Tabakov into big movies. A Noisy Day, Older Sister, and Valentin and Valentina. His movies tell us about seeking the beauty of life. He was an eternal romantic.
Ilya Glazunov, 1930 — 2017
A historical figure — the great, talented colossus — Ilya Glazunov. A whole palette of feelings for his Motherland: faith, pride, loyalty, and pain. His childhood was spent in the blockade and post-war era Leningrad. He saw the shifts of Perestroika and the decline of the USSR. He loved Russia to the point of insanity and painted it, finding visible images for what was happening. Restored from non-existence, the Academy of Painting and Sculpture in Moscow was a human and civil feat.
Vyacheslav Ivanov, 1929 — 2017
An outstanding thinker, linguist, historian, and philosopher. The man of the Renaissance. He was convinced that none of the living people, including those whom we esteem for geniuses, could fully realize their intellectual capabilities.
Mikhail Zadornov, 1948 — 2017
"Life is a paradox" was the opening phrase of his famous story about two rail cars numbered nine: "Get ready, folks. Breathe in as much air as you can." Always relevant and courageous. He crossed out his American visa in front of TV cameras. Seeing off the difficult 90s, he read his appeal to the country. He didn't only joke, but urged us to think and always preserve our dignity.
Allan Chumak, 1935 — 2017
In the 90s, he took over our minds and blue screens. He treated us with charged water and calmed us. He assured us that everything was curable and we wanted to believe him. A peculiar mirror of society that reflected the state of minds at the turn of the ages. Viktor Gorbatko, 1934 — 2017. Overload experiments, pressure chambers, and centrifuges.
Viktor Gorbatko — a cosmonaut of the first detachment. He went space three times, participating in the first group flight. He was fond of chess and organized the world's first chess game between cosmonauts and their colleagues in the MCC.
Elena Rzhevskaya, 1919 — 2017
A WWII veteran, translator, and historian. For 60 years, she'd been assembling the data about the remains of Hitler. By fate, she happened to witness the search and identification of his body. She published some valuable materials and put the final period at the end of this dramatic chapter of the history of the XX century.
Daniil Granin, 1919 — 2017
He thought that speaking loudly is vulgar but had always been the voice of his time.
Daniil Granin: "I'm sure that every person has a destiny".
He broke into the history of Russian literature in 1949. Those Who Seek, and Into the Storm. But his main theme for many years was the war and A Book of the Blockade. He used to speak in the German Bundestag on behalf of a simple soldier of the Great Patriotic War, as he put it himself. He was offered to sit down but the 95-year-old Granin refused. He stood till the very end.
Tamara Miansarova, 1931 — 2017
Tamara Miansarova came to the stage in the 1960s. Sunny and sonorous. Her famous song took Sopot by storm. The incarnation of the Soviet stage. The youth of the era.
Vladimir Pereturin, 1938 — 2017
A universal commentator that made the viewers feel his emotions. He commentated on the Hockey World Championships, speed skating, equestrian sports, fencing, and even weightlifting. But his main passion was football and his Football Review.
Georgy Grechko, 1931 — 2017
Grechko used to smile and joke: "Boys do not fly into space".
Georgy Grechko: "They told me I was violating the work and rest regime".
The first record holder — three months in zero gravity. A test engineer and a serious researcher. The author of the first direct reports from orbit which brought space closer to all of us.
Yuri Drozdov, 1925 — 2017
The Patriarch of illegal intelligence. A participant of the legendary exchange of Rudolph Abel and Powers. He led the operation to storm the Amin Palace in Afghanistan. He created the Vympel group. Thanks to Drozdov, the country has units for performing extremely important and extremely complex tasks abroad. The fusion of intelligence and strength.
Stepan Mikoyan, 1922 — 2017
Stepan Mikoyan was a legend of Russian aviation, test pilot, and a recipient of the highest military awards. He tested almost all variants of MIGs. His score had always been the highest sign of reliability.
Eugeny Yevtushenko, 1932 — 2017
A rebel hero with a sonorous voice and bold ideas. One of those who brought poetry to the squares, and into our lives.
Eugeny Yevtushenko: "It snows in white like it always has".
His poetry is lyrical and deep. His definition of patriotism — when a person wants his country to be a good place to live in. The man who was born at the Zima station understood his Motherland like no other.
Arseny Roginsky, 1946 — 2017
A historian and a civil activist. One of Lotman's favorite students. The founder of the Memorial Society. A passionate human rights activist by vocation and in life.
Alexey Petrenko, 1938 — 2017
Alexey Petrenko was a genius in his profession. He will be remembered forever for the films "Twenty Days Without War", "A Cruel Romance", and "The Barber of Siberia". He also played the roles of Peter the First and Grigory Rasputin. Outstanding and great. Words can't describe his talent. The maestro of acting.
Vladimir Petrov, 1947 — 2017
The glorious trio: Mikhailov, Petrov, and Kharlamov acquired international fame. During his best season, Petrov scored 51 goals in 43 games. Plus 21 assists. This record has never been broken.
Zurab Sotkilava, 1937 — 2017
The Golden Age of opera at the Bolshoi Theater. A rare tenor. He dreamed of becoming a football star but by coincidence, the world received an opera singer. He had the biggest arias, ovations, and recognitions. He managed to remain approachable. Zurab Sotkilava's voice seemed young for the rest of his life just like its owner.
Vladimir Mikhalkin, 1927 — 2017
When he was 14, he ran away to defend Leningrad, lying about being 17. The last marshal of artillery. The last commander of the rocket and artillery forces of the Soviet Union. He tested many rocket systems: Temp, Tochka, Oka, and Iskander. Mikhalkin helped them get adopted. The rockets are still ready to defend our borders.
Mikhail Tolstykh, 1980 — 2017
A living symbol of the Donbass resistance. Commander of the Somali battalion — Mikhail Tolstykh, call sign—Givi. He knew one simple and sacred truth: there is nothing more noble than love for the Motherland and nothing more valuable than victory.
Georgiy Taratorkin, 1945 — 2017
A passionate theater actor. His most important movie role was Raskolnikov, whom he played when he was 23. He was called the best performer of this role. Nobody has ever played him better. He used to teach at VGIK. For many years, he'd been the permanent director of the Golden Mask Festival and Awards.
Ludwig Faddeev, 1934 — 2017
The creator of modern mathematical physics, the academician Ludwig Faddeev. His theory of turbulence has become the basis for the design of submarines, torpedo weapons, and new energy sources. A great scientist.
Vladimir Tolokonnikov, 1943 — 2017
He was remembered wearing a terrible shiny tie and holding a balalaika. Vladimir Tolokonnikov had one of the most successful debuts in history, which was included into all cinema art textbooks. One has to be a very smart artist to play Sharikov like that: "I wish that everyone..."
Galina Shergova, 1923 — 2017
A front line soldier and a military correspondent. Her life is a chronicle of Soviet television. Her main work is the documentary epopoeia — Our Biography. She wrote the texts for the minute of silence, finding the right words. She was truly authentic, touching everyone's heart and soul, tugging at our heartstrings.
Vladimir Makanin, 1937 — 2017
Vladimir Makanin—master of urban prose. His prose arouses disputes and gets translated into dozens of languages. The characters are familiar, as are their lives. He had a balanced and substantial position which are especially valued nowadays.
Svetlana Karmalita, 1940 — 2017
She was the reliable friend, wife, and co-scriptwriter of the director, Herman Sr. Svetlana Karmalita. She earned the right to be listed in the credits next to her husband. They were equals in their creative work, and couldn't exist without each other in daily life.
Dmitri Hvorostovsky, 1962 — 2017
Military songs occupied a special place in his repertoire. They were deep and soulful. His audience loved him sincerely. He received standing ovations at all the famous opera stages of the world. He had the appearance of a Russian epic hero, the voice of an incredible range and beauty, and the courage which showed how one can fight a disease. He sang like he breathed. His voice will remain with us forever.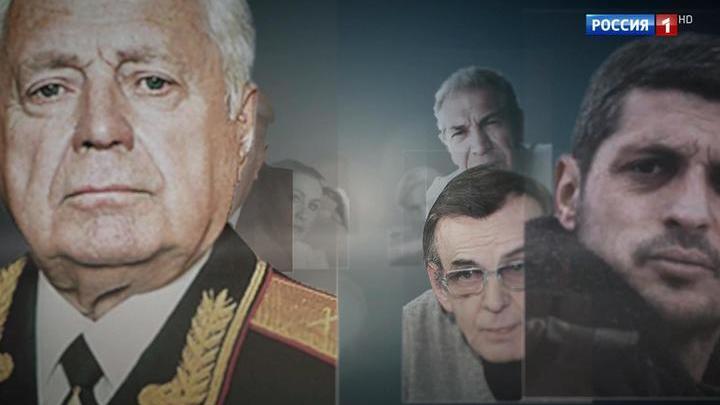 ВЫБОР РЕДАКЦИИ
24 января, 06:19
08 января, 15:00
02 октября 2018, 01:00